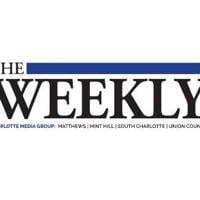 CHARLOTTE – A break in work turned into inspiration for Davita Galloway, award-winning costume designer and co-owner of DUPP&SWAT, a creative studio.
After winning an award from the Metrolina Theatre Association for outstanding costume design for her work on Brand New Sheriff Productions "Ma Rainey's Black Bottom," Galloway was looking for a way to wind down.
"I'm a creative through and through, and I can 'art' in a variety of mediums," she said. "I think I needed to remind myself of this. Initially, I was motivated to create as a form of relaxed expression. Now I'm motivated to keep creating because of the satisfaction I get in completing the process. And, it's a dope way to repurpose my costume inventory."
In October, Galloway found herself with a break between productions, and a need to do "something" with excess fabric and trim inventory. That "something" is "Colored Girls," a collection of 25 pieces of mixed media art, in various sizes and shapes.
While the name of the collection is provocative, the works are called "Colored Girls" because they are chock full of color, prints and patterns, Galloway says. Each work has a first and middle name inspired by the dichotomy and intricacies of women.
"I didn't know I was going to make faces," she said. "I just wanted to create. But as I started assessing my inventory and finding jewels, textured trim and such, I wanted to inform women of how beautiful and rich our unique characteristics are – thus, each piece is different and remarkable on its own."
The collection, with prices starting at $175, will debut during the opening event, 10 a.m. to 1p.m. Nov. 26 at DUPP&SWAT studio at Camp North End, 1824 Statesville Ave. The works will also be available on the davitagalloway.com.
"I absolutely see myself continuing this collection for a while and having exhibits in various galleries," Galloway said. "I'd also love to have the works sold in an assortment of retailers."