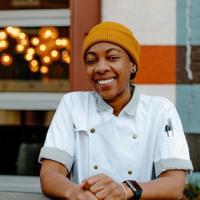 CHARLOTTE – BayHaven Restaurant Group, led by husband-wife team chef Greg and Subrina Collier, is hosting a collaborative dinner with chef Ashleigh Shanti at Leah & Louise on April 18 at 7 p.m.
The dinner will feature a six-course menu with dishes designed by Shanti,chef/owner of Good Hot Fish in Asheville and a contestant on the current season of Bravo's "Top Chef," and the culinary team at Leah & Louise.
Shanti, who is known for her Appalachian-inspired culinary style, will also prepare a fish fry lunch plate available for pickup only at Leah & Louise on April 15.
"Besides being one of the dopest chefs in the country, Ashleigh honors her heritage and place through her craft similar to me," Greg said. "We both are committed to cooking with what's in season relative to where we are. Her style of Appalachian cookery is deeply personal and creative, and I can't wait to be in the room with her while she showcases it."
The fish fry takeout event on April 15 will showcase the food style of Shanti's Asheville concept Good Hot Fish, a fish fry pop-up turned restaurant opening this fall that honors Black foodways and her upbringing on the Virginia coast. The fish fry lunch plate will include Jimmy Red cornmeal fried NC catfish with Fishhead hot sauce and buttermilk tartar, hot slaw, a seasonal vegetable from Old NorthFarm, and white bread and a dessert from Leah & Louise. Each plate costs $25 and must be pre-ordered by April 14 at www.leahandlouise.com. The orders will be available for pickup on April 15 from 11 a.m.-1 p.m. at Leah & Louise.
Guests are invited to meet Shanti during pickup and can either take the meal home or enjoy it on the Camp North End campus.
The collaboration dinner on April 18 will feature six courses, hors d'oeuvres, Champagne and the option to add wine pairings. The Leah & Louise culinary team, including chef/owner Greg and co-headchefs Brandon Staton and Courtney Evans, will work in concert with Shanti on a six-course meal. The courses will include two appetizers, a vegetable, a fish dish, a meat dish and dessert. Tickets for the collaboration dinner are $180 per person. The wine pairing add-on is an additional $40. Tickets are available at www.opentable.com/r/leah-and-louise-charlotte.
"I am so excited to cook in Charlotte alongside chef Greg and his team," Shanti said. "We both cook with the influence of an army of strong Black women behind us. Diners will get to see the many parallels and nuances that exist between the regions we represent."
About Leah & Louise
Leah & Louise is the first dinner restaurant concept from three-time James Beard-nominated Chef Greg Collier and business partner/wife Subrina Collier. The menu features modern interpretations of Southern classics that honor Mississippi River valley foodways (Memphis, Jackson, Mississippi and New Orleans). Leah &Louise, named a best new restaurant of 2020 by Esquire Magazine, was the first restaurant to open at Charlotte's Camp North End development. The restaurant is located at 301 Camp Road, Suite 101. On the web: www.leahandlouise.com.