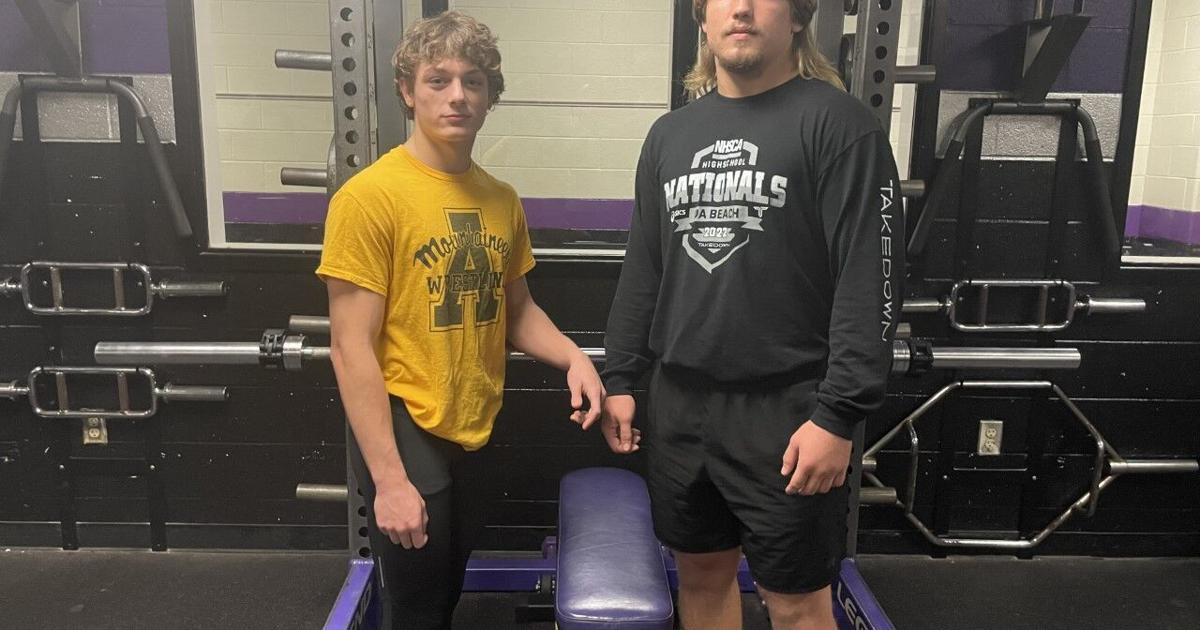 If Nathan Carnes isn't the actual biggest man on the Porter Ridge High School campus, his wrestling resume by itself will at the very least hold the senior superstar in high esteem.
Carnes is ranked as the 13th-best recruit in the country according to Flowrestling.com and pulled the perfect trifecta of accomplishments last season.
The senior, who went 40-5 last season at 220 pounds, became the first Porter Ridge grappler to win the conference wrestler of the year, became the first three-time state qualifier in school history, the first two-time placer at the state tournament and ultimately, the first Pirate wrestler to ever win an individual state title.
Carnes was so dominant that he was also named the NCHSAA Most Outstanding Wrestler of the entire state tournament, topping the other state champions from respective weight classes. Carnes said he was moved to win that title by the support of 10 or so of his teammates that made the drive to Greensboro to watch him wrestle in his title match, but Carnes has perhaps had even more of an impact on those teammates who took the trip to watch him accomplish something no other Porter Ridge wrestler has ever done.
"His work ethic and his dedication are what makes the difference," said Pirates coach Randy Durbin, who was named the conference coach of the year last season. "He's been on official college visits the past couple of weekends and has some more coming up. He's definitely going to wrestle in college. It greatly helps having him in the room. He's a wrestler, he's a captain and he's a great assistant coach."
Carnes' impact reaches past his coach, according to teammate Christian Hasty
"Nathan sets an example in that it's really how much work that you put in you get to reap your rewards," Hasty said. "He went into every off-season practice grinding real hard and it paid off. He put all of that work in, and I think a lot of people really look up to him and realize this is what you have to do to reach your goals."
Hasty finished fourth at states two seasons ago and is looking to join Carnes as a three-time state qualifier this season after compiling a 33-13 record at 138 pounds, but has bulked up in the off-season as one of the Pirates to undergo rigorous off-season training.
Coming off a fourth-place finish as a sophomore, Hasty is ready to follow suit committing himself to off-season training and workouts.
But he's far from alone in changing the trajectory of an always-strong Porter Ridge program that is looking to achieve even more success this season with a school-record number of wrestlers.
"With 45 kids on our roster," Durbin said, "we have the largest team in school history. We have two returning state placers, we are starting our women's program and have four ladies, including Zoey Green, who is our first girls state qualifier and our women's team captain. We have a good, strong team right now and it's exciting."
The Pirates qualified 14 wrestlers for the NCHSAA regional tournament and sent 12 to compete due to a couple of injuries.
This season, there is reason to think they can improve upon that.
"I think this year we're going to open a lot of people's eyes," Carnes said. "We had 16 or 17 people going to the same club and wrestling as much as they could. This is going to be a breakout year for our program for sure."
Aside from the three retuning state qualifiers, Carnes and his teammates are expecting big seasons from sophomore Joseph Courtney, junior Haroon Al-Sharee, junior Khaleal Henson and the other returning regional qualifiers to hopefully lift Porter Ridge higher than they've ever been.
Led by their star, the Pirates may be ready to ascend to greater heights than ever before.
"Wrestling is where my heart is," Carnes said. "After two years of grinding and falling short personally, that was probably the biggest goal that I've ever had. I'm a big believer in long-term and short-term goals and finally getting there was amazing. I lost to the state runner-up at regionals and knew I had to step up. I watched countless hours of film to get ready and now I want to lead this team.
"Long-term, this year we're thinking we can be at least top four in the state, but we have the potential to be much more than that." I know that we can win states. We have a team that is talented enough to do it."