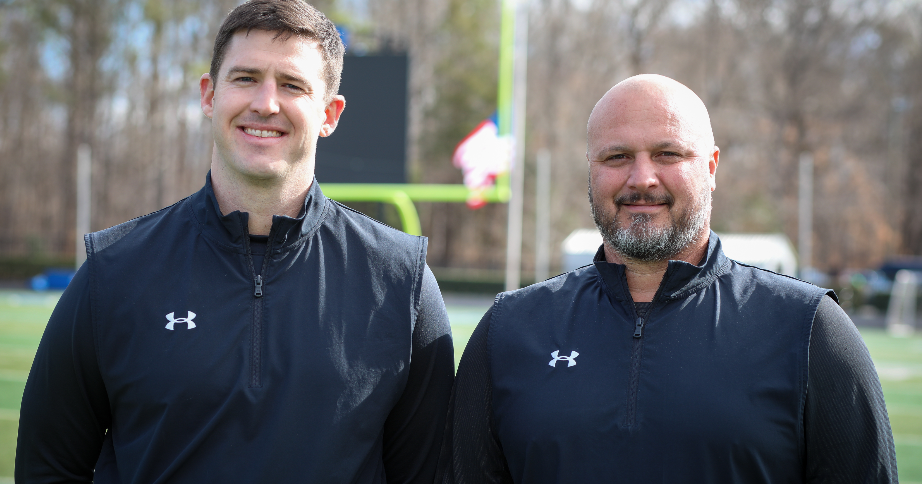 CHARLOTTE – Jason Estep has resigned as assistant athletic director and football coach at Charlotte Christian School after 16 years at the helm.
Estep has accepted a position with Universal Forestry Products as an operations manager starting in February.
Chris James, a 2008 alum of Charlotte Christian, has been named the new head coach. James played under Estep for three years in high school before playing football collegiately at the University of Richmond and graduating from UNC Charlotte with an exercise science degree.
James was a part of the Charlotte Christian football staff from 2010 to 2016, serving as an upper school teacher and coach. He left to be the founding head football coach at Covenant Day School for three years. He later served as offensive coordinator at both Ardrey Kell and Myers Park high schools. This past fall, James returned to Charlotte Christian sidelines serving as offensive coordinator under Estep.
"I am confident that Coach James will build upon the foundation that Coach Estep created while maintaining the culture of excellence that is CCS football," Head of School Barry Giller said.
Estep joined the football program in 2005 as an assistant coach and was named the head coach and director of football operations in 2007. During his 16-year tenure, he accumulated a 138-42 career record that includes eight NCISAA state titles, four NCISAA runner-up finishes and 10 conference titles.
Estep has coached 96 student-athletes who have advanced to play college athletics and two student-athletes who were drafted to play in the NFL (Garrett Bradbury with the Minnesota Vikings and Matthias Farley with the Las Vegas Raiders) and Desmond Lawrence with the Canadian Football League's Winnipeg Blue Bombers.
Estep was honored as the coach of the year twice by the National Christian School Athletic Association and twice named Coach of the Week by the Carolina Panthers.
"While all of these accomplishments are remarkable, what was most important is how Coach Estep invested in his players," Giller said. "His desire was to teach our student-athletes how to compete at the highest level and honor God. His intentional discipleship greatly influenced hundreds of players as they left CCS and are now impacting the culture for Christ."