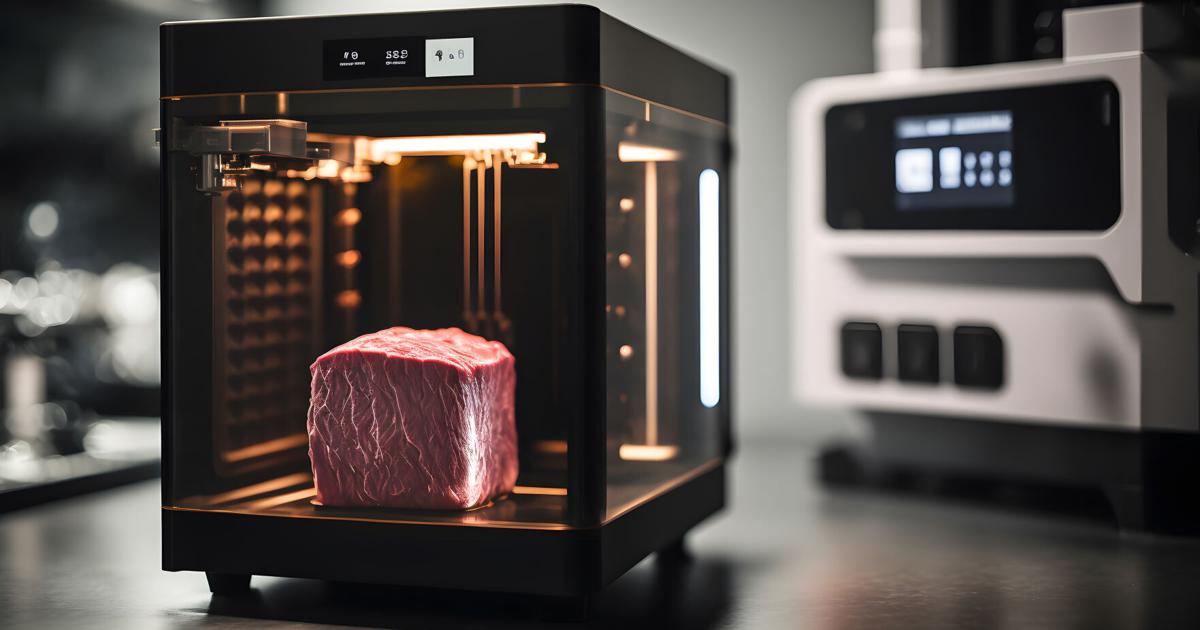 Who doesn't love waking up in the morning with food already prepared for them by someone? — but in this case, by something! That's right! 3D printers can make food and it's just as futuristic as you think. It sounds complex but scientists think that food-making 3D printers can be used by people in their homes in the future.
Find out how!
How 3D Printers Can Make Food
A few days ago, scientists from Columbia University made news because they were able to make cheesecake using 3D printers. Though plenty of others tried making 3D-printed food before (such as researchers from Cornell University in 2008, biozoon GmbH from 2012-2015, Novameat in 2018, and many more), Jonathan Blutinger and his team were able to print cheesecake that had layers that didn't collapse.
The structural integrity of the 3D-printed cheesecake was important for the researchers — early versions of the cake didn't hold up as there wasn't enough Graham cracker paste; thus, the cake was too mushy. As for the taste, Jonathan Blutinger told the Guardian, "It definitely tasted like something I hadn't tried before," however, he added, "I rather enjoyed it, but it's not a conventional mix. We're not Michelin chefs."
As for how 3D printed cakes are made, the researchers squeezed the ingredients in syringes for the printer to deposit thin lines — a blue laser was then used to finally top the cake with browned Graham crackers. The result of the cake that the printer made had several layers of Graham cracker paste, peanut butter, banana purée, Nutella, strawberry jam, cherry drizzle, and frosting — yup, it only has 7 ingredients! That's why scientists believe that soon, people can use 3D printers to make cakes in their own homes!
3D Printers: The Next Big Thing in Kitchen Appliances?
Many believe that 3D printers are the future of food-making. Last year, Mooji Meats attempted to make plant-based meat using 3D printers. Even NASA has been investigating the use of 3D printers to make meals for their astronauts.
Jonathan Blutinger told CNN, "If this [technology] were to hit the market, it's like having an iPod without any MP3 files," he added, "So there needs to be a place where you can download recipes, create your own recipes and get some inspiration for what you can actually do with this machine in order for it to really take off in a big way."
Now that cheesecake can be made using 3D printers, Jonathan Blutinger believes that other kinds of food can eventually be made using the device. He told the Guardian, "We can print chicken, beef, vegetables and cheese. Anything that can be turned into a paste, liquid or powder."
3D printers that can make food aren't exclusive for home use. A philosopher from Simon Fraser University, Andrew Feenberg, thinks that 3D printers are better to have in restaurants. He told the Guardian, "It might turn out to be more useful in restaurants and cafeterias where the loading of ingredients and software programs could be done during slack hours."
Is it Safe?
It might be exciting to use 3D printers to make food, however, there might be potential health problems that people may face when using the device for that purpose. Dr. Peter Byrley of the Environmental Protection Agency released a statement saying, "A potential societal benefit of this research is to increase public awareness of 3D printer emissions, and of the possibly higher susceptibility of children." His statement was also released to let people know that 3D-printed food is still a new concept. Therefore, most experts are still unaware of the health problems that people can potentially suffer from.
Other health experts say that 3D-printed food may have toxic chemicals and tiny particles that are bad for the lungs. They believe that there might also be plastic particles in the 3D-printed food as 3D printers are used mainly to create objects using thermoplastics, polymers, metals, and other materials that can produce chemical by-products.
Overall
3D printers can make food now! — and scientists were overjoyed to let the public know that they were finally able to make cheesecake using the high-tech device. Moreover, 3D-printed food can also potentially be made in our houses in the future. Who knows, they may even help alleviate world hunger one day.
However, consuming 3D-printed food is said to come with health risks; other researchers believe that foods made using 3D printers have toxic chemicals in them. Therefore, until the experts can definitively give the public the go signal (that 3D-printed foods are safe to eat), it's probably the best and only time when we can use the machine for that purpose.